ANSWERS TO THE MOST COMMONLY ASKED GATOR BASE QUESTIONS
Three of the greatest challenges to installing outdoor pavers are freeze/thaw cycles, excavation, and time and labor. Gator Base was engineered specifically to address each of these installation challenges. In this blog post, we're going to answer the top questions we typically get asked about this product and highlight some unique advantages you may not have known about.
---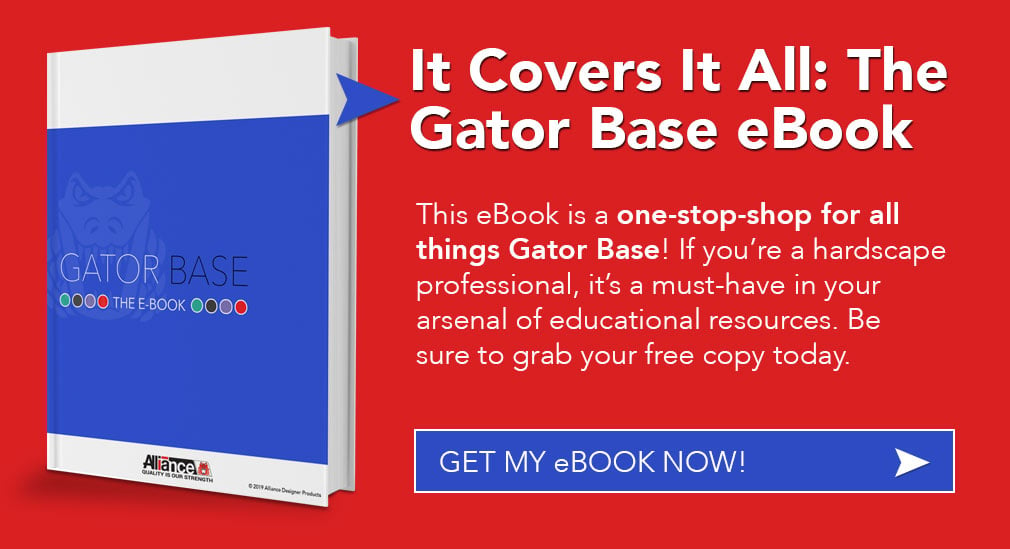 1. Which applications are best suited for Gator Base?
Gator Base is ideal for patios or walkways made from concrete pavers, natural stone, or outdoor porcelain tile. The product is especially beneficial under these circumstances:
Areas that are difficult to access (i.e. hills, stairs, tight work spaces, narrow alleys)
Restricted construction zones (where material storage is prohibited in streets)
Projects where construction speed is critical (Gator Base is easy to use/install/transport, no industrial equipment is needed, and it saves about 25% in labor costs.)
2. How does Gator Base perform in climates that experience freeze/thaw cycles?
One of the greatest advantages of Gator Base is its resistance to freeze/thaw cycles. With an R-Value of 3.6 per inch, Gator Base provides the ultimate protection against the effects of drastic temperature changes. Each panel features a tongue-and-groove system which creates an interlocking base. So pavers set on top of Gator Base essentially become a single unit with better load transfer.
ICPI-Certified Installer David Orsini regularly uses Gator Base on projects in upstate New York. In a 2016 interview, we asked him what got him hooked on the product. He went on to describe the results of the first big project he used it for:
"The ease of installation was amazing. But the proof was going to be how it handled a winter in Upstate New York. When I visited the site the following spring, I was very pleased to see that it was just as it was the day we installed it. I was thrilled to see that the Gator Base held up so well. It felt like a brilliant move. We had a smooth installation and I plan to use it in future projects with tough access and tough ground. And I won't hesitate."
For more insights from this interview, be sure to download a free copy of the 2016 Gator Base Case Study.

3. How do you install Gator Base?
We have several online resources that can help prepare you for your first Gator Base installation. We also have a team of more than 40 experienced reps who are eager to lend support and answer any questions you might have. (To get in touch with your local Alliance rep, simply call 1-866-212-1611.)
4. Can Gator Base be used directly on top of a concrete pad?
We're going to say, "Yes, BUT…"
The concrete must be sound … it can not be cracked or uneven. If it is, you'll have to tear the existing concrete out before starting your Gator Base project.
The concrete pad must also have pitch (ideally at least 1.5%) and drainage holes (at least 2" core drilled holes on a 3x3 pattern filled with pea gravel and covered with filter fabric to allow drainage). The edge restraint chosen must allow for the free evacuation of water from the concrete slab and be securely anchored to prevent any movement.
5. What type of joint sand should be used for a Gator Base install?
For a concrete paver installation or natural stone installation, Gator Maxx polymeric sand must be used. For an outdoor porcelain tile installation (using the Gator Tile System), Gator Tile polymeric sand must be used.
6. Can Gator Base be used for a vertical application?
Gator Base is not intended for vertical applications. However, it is perfect for patios, walkways, pool decks, and especially areas that are difficult to access and/or can't accommodate large pieces of equipment. For in-depth insights on Gator Base, be sure to read: Time-tested: A Case Study On One Of The First U.S. Gator Base Jobs.
7. How can I obtain a copy of a Technical Data Sheet?
That one's easy … just click here
8. Can I get a sample?
Need a tangible piece of evidence that shows the quality and uniqueness of Gator Base? We'd be happy to hook you up with a sample! Simply complete our sample request form and we'll send you what you need!
9. Where can I buy Gator Base and how much does it cost?
Like all of our products, Gator Base is sold through a network of different dealers. Please contact your local dealer for pricing and availability. Not sure who sells Gator Base in your area? Give us a call at 1-866-212-1611 and we can put you in touch with a store near you.
This post was updated on 8/21/2019.