---
WHY USE POLYMERIC SAND?
Polymeric sand has gained popularity amongst contractors for many different reasons. In this blog post, we'll explain the top four benefits of using this product and why you should consider polymeric sand for your next outdoor paver project.
---
1. Improved Interlock
One of the main functions of polymeric sand is to improve interlock while creating a highly durable hard surface. Formulated with binding agents that help lock pavers together, polymeric sand will provide strong and sturdy joints that will hold up to the test of time.

2. Won't Wash Out
If you've used polymeric sand, there's no need to panic during a heavy rainfall … the sand will not wash out of the joints. And while we're on the topic of rain, it's a good time to note that polymeric sand offers protection against water seeping through joints and affecting the integrity of the bedding below.

3. Resistance To Weeds and Ants
Polymeric sand offers an incredible level of protection against weeds and ants. Because of the strong bond that forms after the product has been activated with water, weeds and ants will have an incredibly difficult time breaking through the surface. By not using polymeric sand, you run the risk of turning your patio into a jungle … which, as you can see here, is not a good look.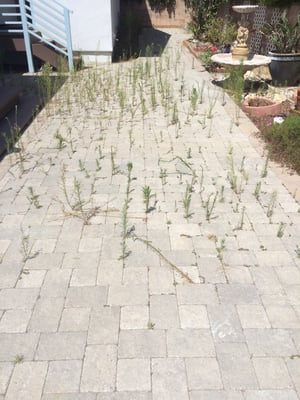 What can happen by not using polymeric sand. Not. Good.

4. Color Choices
No matter what kind of pavers you're using, you're bound to find a polymeric sand option that coordinates perfectly. Style and strength … does it get much better than that?
So are you convinced that polymeric sand is right for your next project? Now take the next step and learn the 10 keys to a successful polymeric sand installation in this blog post!