TOP 5 GATOR PRODUCTS TO STOCK UP ON FOR 2018
The New Year is almost here! Now's the time to get prepared so you can rock all of your hardscape projects in 2018. In this blog post, we're sharing our list of the top five Alliance Gator products to stock up on next year.
---

Ready to rock your hardscape projects in the coming new year? Here's our list of the must-have Alliance Gator products for 2018:
1. G2 Intelligent Polymeric Sand
In October 2017, we introduced a game-changing polymeric sand to the hardscape industry. Meet G2. No haze. No dust. No blower required. And only one watering is necessary!
G2 is manufactured by mixing specifically calibrated sand with sophisticated intelligent polymers, which neutralize haze and dust. The end result: a second generation of polymeric sand unlike anything you've ever seen before.
Dramatically simplifying the installation process, G2 only requires a sweeping to completely remove leftover particles from the surface. And with its uniform composition, water is able to penetrate deeper through the sand, activating all of the intelligent polymers more evenly to form a stronger, more consistent bond (which … by the way ... only requires only one watering!).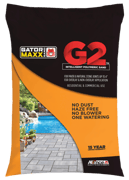 G2 is available in our standard four vibrant colors and is backed by our 15-year limited warranty. It's the cleanest, fastest, and easiest product to install on the market. Definitely a must-have for the 2018 hardscape season!
2. Gator Efflorescence Cleaner
If you followed our 2017 Summer Sealer Series, then you know the importance of efflorescence cleaning. But in case you missed it, here's a very quick recap:
Performing a thorough efflorescence cleaning is absolutely mandatory prior to sealing pavers. Aside from removing efflorescence itself, the cleaner will help to remove any existing debris and help you avoid the risk of trapping, and essentially highlighting, pre-existing dirt and stains.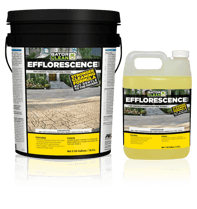 Gator Efflorescence Cleaner will also make pavers look more clean and vibrant without discoloring or damaging the paver surface. This is a huge plus. Even more importantly, however, is that efflorescence cleaner will thoroughly clean the pores of the pavers and allow for a much deeper penetration of the sealer when it's applied. This will not only elongate the life of the project, but the sealer will now be able to perform at the most optimal levels.
If you plan on offering sealing services in 2018, be sure to stock up on plenty of Gator Efflorescence Cleaner!
[Starting A Lucrative Cleaning & Sealing Business: A Case Study]
Need some tips on using Gator Efflorescence Cleaner? Check out this blog post: How To Remove Efflorescence From Concrete Pavers In 6 Easy Steps
Gator Base is the solution to the three biggest challenges faced by every hardscape installer: excavation, time and labor, and freeze/thaw cycles. With over 2 million square feet already installed, contractors are clearly seeing the benefits of breaking the mold and trying something new! Here's a quick rundown on how a Gator Base installation differs from a traditional paver installation:
1. Less Excavation
When excavating for a traditional paver installation, it's customary to reserve six inches for crushed stone. With a Gator Base installation, there's no need to do this. Here's why. The interlocking panels distribute all dynamic loads to a very wide area, practically eliminating any pressure on the ground. Essentially, one Gator Base panel is the equivalent to six inches of crushed stone!
2. Reduced Labor
Excavation is one area where labor can be saved on a Gator Base job, however, Gator Base also drastically cuts down on the time it takes to perform an installation. With each panel weighing in at a mere 1.32 lbs., moving them in and setting them down takes a matter of minutes! No more hauling in heavy aggregate material … 28.9 square feet of Gator Base (which weighs only 6.6 lbs.) replaces a whopping 1,440 lbs. of crushed stone (and all of the tedious hours of manual labor that comes along with it)!
3. Protection From Freeze/Thaw
One of the most commonly asked questions we get on Gator Base is, "how does it perform in climates that experience freeze/thaw cycles?" Well, Gator Base is specifically engineered to protect against the effects of freeze/thaw!
One panel of Gator Base acts like a thermal blanket that insulates as well as 18 inches of crushed stone … making it three times more effective than crushed stone as an insulator! With an R-Value of 3.6 (per inch thickness), Gator Base will significantly reduce the impact of freeze and thaw cycles.
For more details on the advantages of using Gator Base, be sure to read: 3 Key Differences Between A Gator Base Installation And A Traditional Paver Installation
Now it's time to let you in on a secret. We offer a special Gator Base Rebate Program for professional contractors … stay tuned as we'll be releasing details on it early next year.
Gator Block Bond XP Glue is one of the strongest polyurethane adhesives on the market. It's especially formulated for bonding concrete, natural stones, blocks, bricks, and pavers.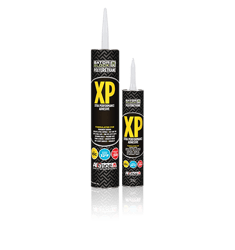 This stuff sticks! It can be used on a variety of applications, including:
Overlays and pool copings
Steps and wall caps
Fire pits (up to 400°F or 204°C)
Gator Block Bond XP can be used on either dry or damp surfaces and offers a permanent bond in 24 hours! It's the go-to glue if you're a hardscaper. To see why, click here for a complete list of product features and benefits.
Geofabrics (or geotextiles) are commonly used to support civil engineering projects such as roads, retaining walls, reservoirs, etc. Seeing geotextiles used in smaller hardscaping projects … well, that's not so common. However, these fabrics can significantly improve the strength, stability, and design of just about any project where soil is involved. We like to think of it as very cheap insurance.
We recently launched a line of fabrics and grids that can meet the demands of almost every hardscape project.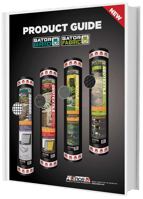 Need more info on how geotextiles can improve your hardscape design? Click here.
Also, be sure to download our Geotextile & Geogrid Pocket Guide for fast access to what kinds of products work best on different hardscape applications.
Happy New Year everyone! We're looking forward to providing you with the best hardscape education, support, and accessories in 2018!