TIME-TESTED. A CASE STUDY ON ONE OF THE FIRST U.S. GATOR BASE JOBS
Skepticism. It was one of the most challenging obstacles to overcome when Gator Base was first launched in 2013. The traditional way of installing pavers had worked for hundreds of years, and many contractors firmly believed there wasn't a reason to go and reinvent the wheel. The list of objections was long. "There's no way a ¾" piece of polypropylene could replace 6" of compacted crushed stone." "I can't see this product ever holding up in the kind of freeze/thaw cycles we experience here." "I don't believe I'd really be saving anything by using Gator Base."

And then there were the few who decided to try it out. One of these daring contractors was Patrick Donovan, owner of Classic Landscaping in Edison, NJ. Eager to utilize revolutionary products and stay ahead of the curve, Patrick installed one of the very first Gator Base jobs in the U.S. In this case study, we'll explore the details of this project and how it's holding up three years later.
---
About
Before we begin, we'd like to introduce you to Patrick Donovan. After serving 27 years as a Police Officer for the Port Authority of NY and NJ, Patrick ventured into the business of landscaping and snow removal. In 1983 he started Classic Landscaping, a full-service landscaping company specializing in design, installation, and maintenance for commercial properties. Patrick is a member of several industry-related associations and holds a variety of professional certifications including ICPI and NCMA. He is also a contributing writer for numerous trade publications.
Discovering Gator Base
Patrick first discovered Gator Base when it debuted at the 2013 GIE EXPO in Kentucky. And like many of the contractors who visited the Alliance booth that year, he had his doubts about this brand new product. Interested in learning more, he eventually reached out to his local sales rep, Kevin Minton.

"I have a great working relationship with Kevin and put great value in his knowledge and his honesty. I was skeptical at first but, when I realized Alliance had the technical data to support this new idea, I decided it was worth a try. In my book, if Kevin says it works, it works!"
The Job
In 2014, the perfect opportunity to use Gator Base presented itself. A very small working area combined with a buried utility surprise called for some creativity on a New Jersey job site, which Patrick describes in the full version of the case study.
---
Download the full version of the case study for the rest of this story! You'll get to see actual project photos, hear real-life testimonials, and learn details about not only the installation, but how the job is holding up today.
---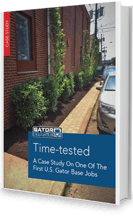 Click here to download your free copy right now.