THE eBOOK ON PAVER SEALING
Paver sealing is an incredibly complex topic. There is actually so much to talk about that we decided to write a book on
it! As a leading manufacturer of cleaners and sealers for concrete pavers, we have a wealth of practical information to share. This eBook unpacks the topic of sealing like no other resource out there and will serve as an invaluable tool for hardscape contractors and retailers alike. Ready to dig in?
---
CHAPTER 1: UNDERSTANDABLE EXPLANATIONS OF SEALER TYPES
First thing's first. Before delving into the nitty-gritty, we're going to cover the basics. Understanding the types of products available on the market will better position you for success on future sealing jobs. This chapter will give you a clear understanding of how different sealers work and enable you to make sound product selections for just about any type of project you're faced with. (And even if you're a pro, a little refresher never hurts!)
Solvent-based vs. Water-based Sealers
Knowing the facts about solvent-based vs. water-based sealers will make all the difference in your outdoor paver project. While they do have some characteristics in common (i.e. protection against wear and tear, a level of stain and UV resistance, a fairly easy application process) it's the differences that ultimately determine which type of sealer will best fit your project.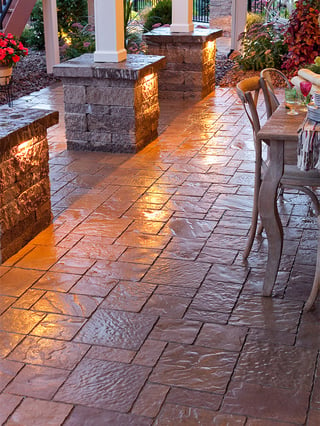 Solvent-based sealers:
May offer color and gloss enhancement (often better than water-based products)
Are sensitive to moisture before application
Dry quickly (and are prone to spider webbing)
Are easy to repair
Are generally longer lasting than water-based sealers
Water-based sealers:
May offer color and gloss enhancement
Are environmentally friendly
Clean up with water
Tolerate damp surface application
Are sensitive to moisture after application
May be more difficult to fix if something goes wrong
PRO NOTE: Water-based sealer can NEVER be applied on top of solvent-based sealer!
In Chapter 2 we'll explain how to handle previously sealed pavers but it's important to note here that water-based
sealer can never be applied on top of solvent-based sealer!
Now it's time to review the next big bucket of sealer types … topical vs. penetrating!
Topical vs. Penetrating
We've discovered that general education on the application and usage of sealer proves to be quite limited (and often
conflicting). Unfortunately, making a mistake on a sealing job is costly and very labor-intense to fix. So it's critical to
choose the right product and apply it precisely as specified by the manufacturer.
Let's break down the differences between topical and penetrating sealers and see how each fits into the big picture.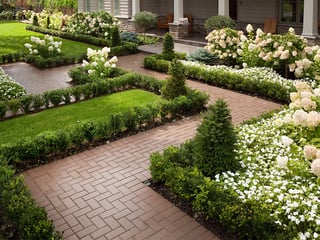 Topical Sealers
The bulk of sealers on the market are topical, or film-forming, sealers. They are fairly easy to use and offer a degree
of stabilization to the joint sand. However, product features can vary from one topical sealer to the next. For example:
Acrylic topical sealers are easily scratched
Solvent-based topicals are simple to touch up
Water-based acrylic topicals are not easily repaired
Penetrating Sealers
As the name implies, penetrating , or non-film-forming, sealers are formulated to work down into the paver and create an invisible layer of protection against stains, de-icing salt damage, etc. Penetrating sealers work by increasing surface tension to cause beading. These products will create hydrophobic water-shedding, meaning water will quickly form into droplets on the sealed concrete paver surface instead of soaking in. While penetrating sealers will not provide gloss enhancement, they offer superior levels of abrasion, heat, and UV resistance.
Sealer Classifications
As if things weren't already confusing enough, sealer types can be broken down even further! Let's explore the characteristics of some of the most common sealer classifications.
Acrylics
Acrylics are an economical sealer choice. They're available in both water-based and solvent-based varieties and are fairly easy to apply. Acrylics typically come as a single component, or 1K (a.k.a. no mixing required), and provide excellent gloss and color enhancement. The downside: they're moisture sensitive after application and may scratch easily.
Fluorochemicals
Fluorochemical sealers, while relatively expensive, will last for years. Fluorochemical sealers are generally easy to apply. Because they are a penetrating type of sealer, they will not provide any color or gloss enhancement.
Silicones
Silicones are another economical sealer option. They have a moderate life-span and are available as a single component penetrating product. Silicones will not provide any kind of gloss enhancement but they may slightly enhance the color of the pavers.
Polyurethanes
Polyurethanes are an excellent sealer choice however, that comes at a price because they're typically expensive. They're available in single component (1K) or two parts (2K). Two-part products must be mixed on-site and can be tricky to apply properly. Polyurethanes are also available in both water-based and solvent-based versions. They're tougher than acrylic sealers, providing high levels of UV- and chemical-resistance.
That was a lot of information … we know! So we've developed the Ultimate Sealer Cheat Sheet that you can store on
your smartphone for reference anytime you need it. You can download it by clicking here!


Like what you've learned so far? Unlock the remaining chapters by clicking here!

Here's an outline of each chapter and the topics that are covered!
Chapter 2: Practical Preparation Tips
4 Things To Do Before Sealing Pavers
Efflorescence Cleaning (and why it's mandatory)
How To Handle Previously Sealed Pavers
Other Checklist Items
Chapter 3: The Ins And Outs Of Application
Tools Needed
Step-by-Step Application Guide
3 Cleaning And Sealing Hacks
Chapter 4 Issues!
Prevention
Can it be fixed?
Chapter 5 Natural Stone Nuances
Natural Stone Characteristics
Sealing Challenges And Considerations
Applying A Natural Stone Sealer
Chapter 6 Selling Your Cleaning/Sealing Services
10 Common Considerations
Educating Your Clients
Estimating A Sealing Job
Marketing Tips