INTRODUCING RAPID SET TECHNOLOGY!
Introducing Rapid Set Technology! We have officially taken our G2 Polymeric Sand to the next level. Aside from the four main benefits this product has always featured (NO dust, NO haze, NO blower needed, and only ONE watering), G2 is now RAIN SAFE AFTER FIFTEEN MINUTES!
---
Continuous Improvement
The weather can be very unpredictable in certain areas and we've seen many projects get impacted by an unexpected rain storm. So we set out on a mission to make G2 even easier to use than before … continuous improvement! Now you can have peace of mind knowing your project is rain safe after only fifteen minutes.

(It's important to note that while the product will resist erosion from rain after the 15-minute mark, it will not fully cure until it dries, which is dependent on the weather and moisture levels.)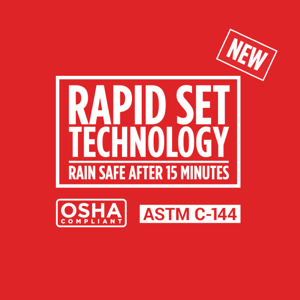 Applications
Our Supersand G2 and Maxx G2 will feature the new Rapid Set Technology. As a recap, we've listed out some features and application information for both of these products below:
Supersand G2
For paver and natural stone joints up to 2"
Residential use
Available in Beige and Slate Grey
ASTM C-144
OSHA Compliant
Maxx G2
For paver and natural stone joints up to 4"
Residential and commercial use
For overlay and non-overlay applications
Available in Beige, Slate Grey, Ivory, and Black Diamond
ASTM C-144
OSHA Compliant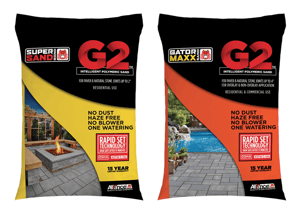 Compaction & Watering
Properly compacting and watering G2 polymeric sand is critical. To help you master both techniques, just remember this ...

30/30 (for watering)
First off, it's next to impossible to over water G2. However, it's very easy to make the mistake of under watering. When working with G2 with Rapid Set Technology, you should shower for a minimum of 30 seconds per 30 square feet or until the G2 Rapid Set Polymeric Sand repels the water and the water starts to accumulate on the joints.
Now, working in small sections like this might sound crazy … especially on a large job ... but it's critical! This product starts to set up very fast. Working in 30 square foot sections and applying a minimum of 30 seconds of water at a time will ensure the entire project gets properly watered in.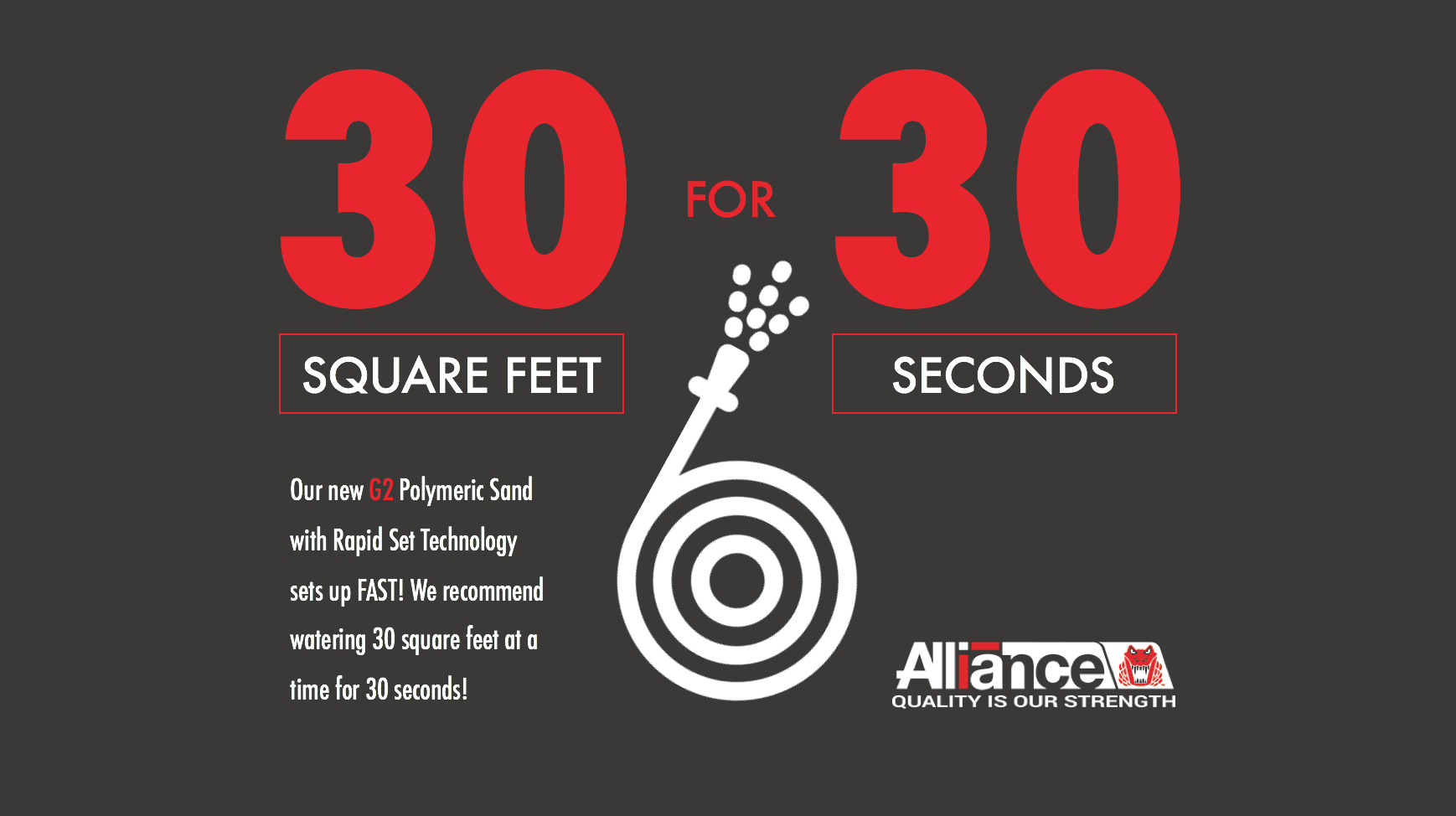 30-50% (for compaction)
When you sweep in the sand, the joints will initially be filled to the top. However, after compacting with a plate compactor, roller compactor, or rubber mallet (for slabs), the joint sand drops about 30-50% down into the joint! To make sure you're using enough product, you must refill and re-compact. By consolidating all of the joints, you'll remove any air space and achieve good adhesion.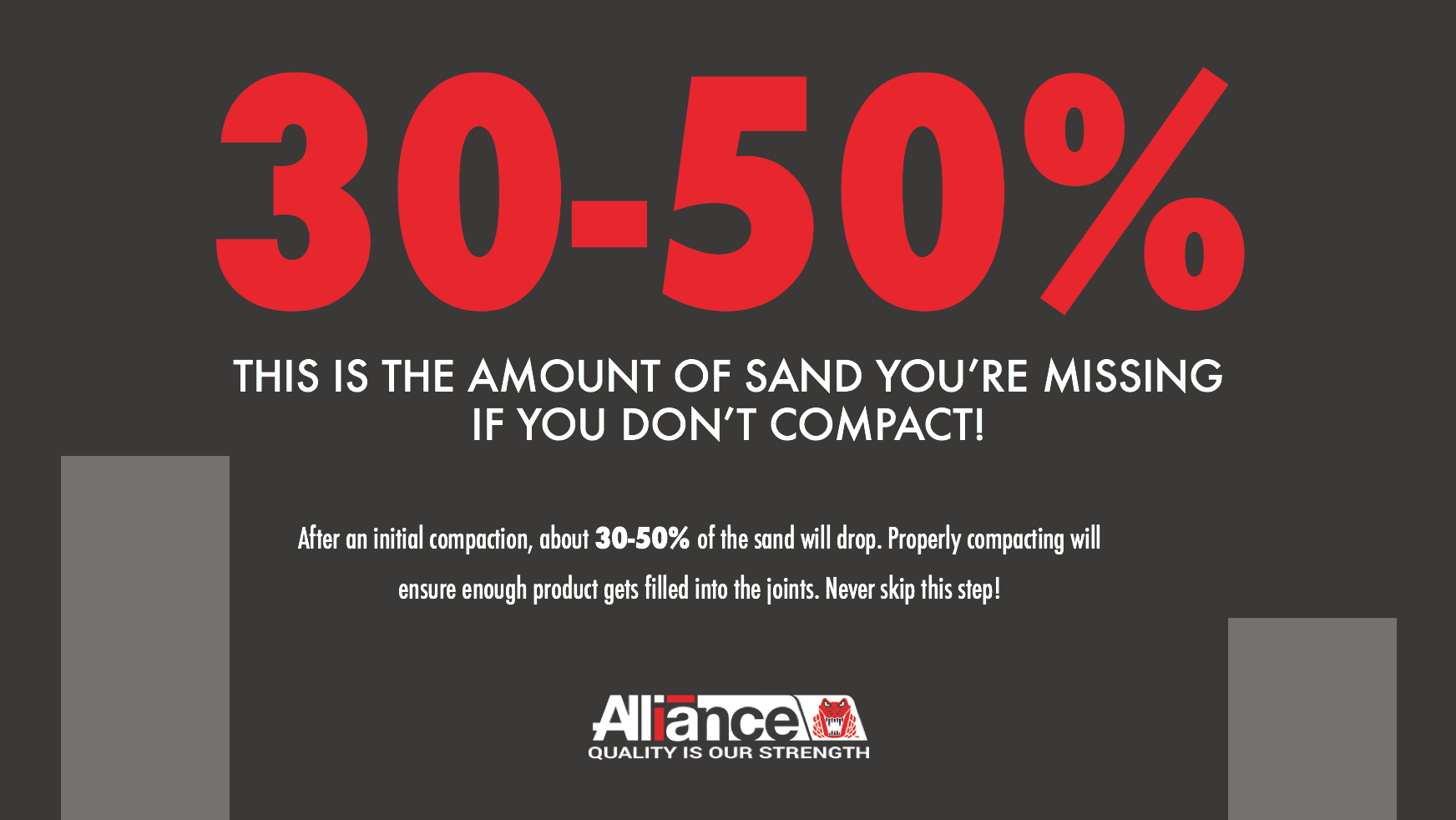 Our new Rapid Set Technology makes G2 a completely unique product … and even better than it was before. However, reading about it just isn't enough. You must see it in action to believe it! If you're a professional contractor or authorized dealer, click the button below to receive a free demo kit.