HOW TO REMOVE ORGANIC STAINS FROM PAVERS
Think about the different cleaners you have stored underneath the kitchen sink to handle all the messes that life throws at you. When it comes to messes on your paver or natural stone patio, the same logic applies because there's really no such thing as a one-size-fits-all cleaner. In this blog post, we're focusing on organic stains and our recommended solutions for getting rid of them.
---
FRESHEN UP YOUR PATIO WITH...
If you're just looking to give your patio a refresh to bring it back to a clean and vibrant state, Gator Shampoo is the answer. This product is designed to work on a number of surfaces including pavers, slabs, wet cast, and natural stone. While it won't treat efflorescence or staining caused by organic materials or grease, it's a great solution for general maintenance. Gator Shampoo will remove ground in dirt from your patio's surface, restoring it to its natural color and making the stones look clean and vibrant. This product won't have a negative impact on polymeric sand joints or the surrounding vegetation.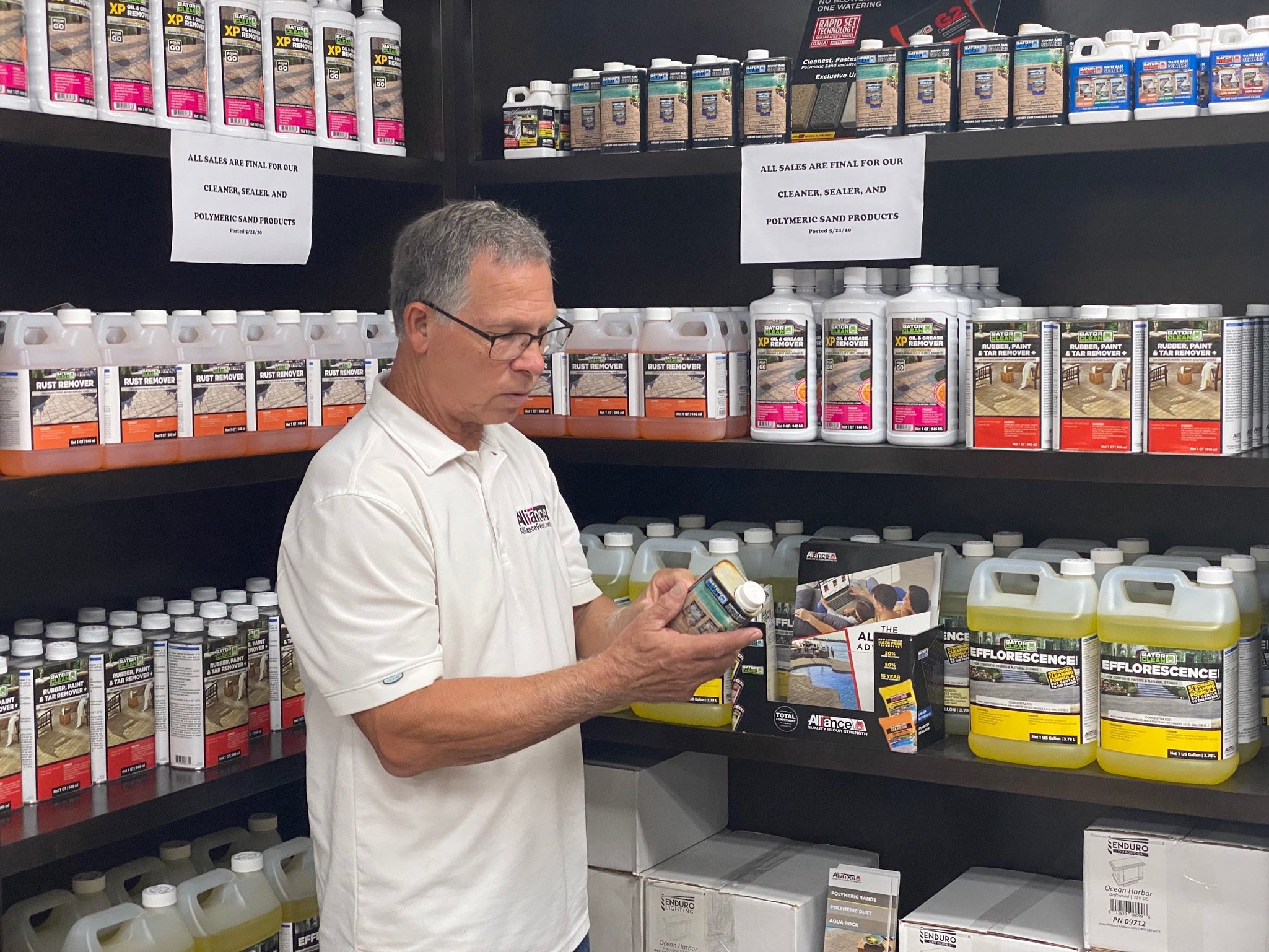 While Alliance Shampoo is a great all-around cleaner for your paver or stone patio, there are some stains it won't help with … such as organic stains. More on that in a moment!
CLEAN EFFLORESCENCE WITH...
Efflorescence is the migration of salts to the surface of concrete pavers. It does not equate to a product defect. In fact, it's a normal and natural occurrence that can happen in any cement-based product. In many cases, efflorescence will disappear on its own over time (usually after the first year of initial installation). However, Gator Efflorescence Cleaner may be used to clean it as well.
This product is formulated to remove efflorescence from the surface of concrete pavers, wet cast and natural stones. It's important to note that you should always check the recommendations of the paver manufacturer prior to treating for efflorescence. (It's also important to carefully read the instructions for the Efflorescence Cleaner to ensure it's applied properly and safely on the pavers.) If you're cleaning newly installed concrete pavers, we recommend waiting at least 60 days prior to using Gator Efflorescence Cleaner.
While Gator Efflorescence Cleaner is great for treating efflorescence, removing penetrated dirt, and bringing pavers back life, it won't help with organic stains. The secret for that is up next.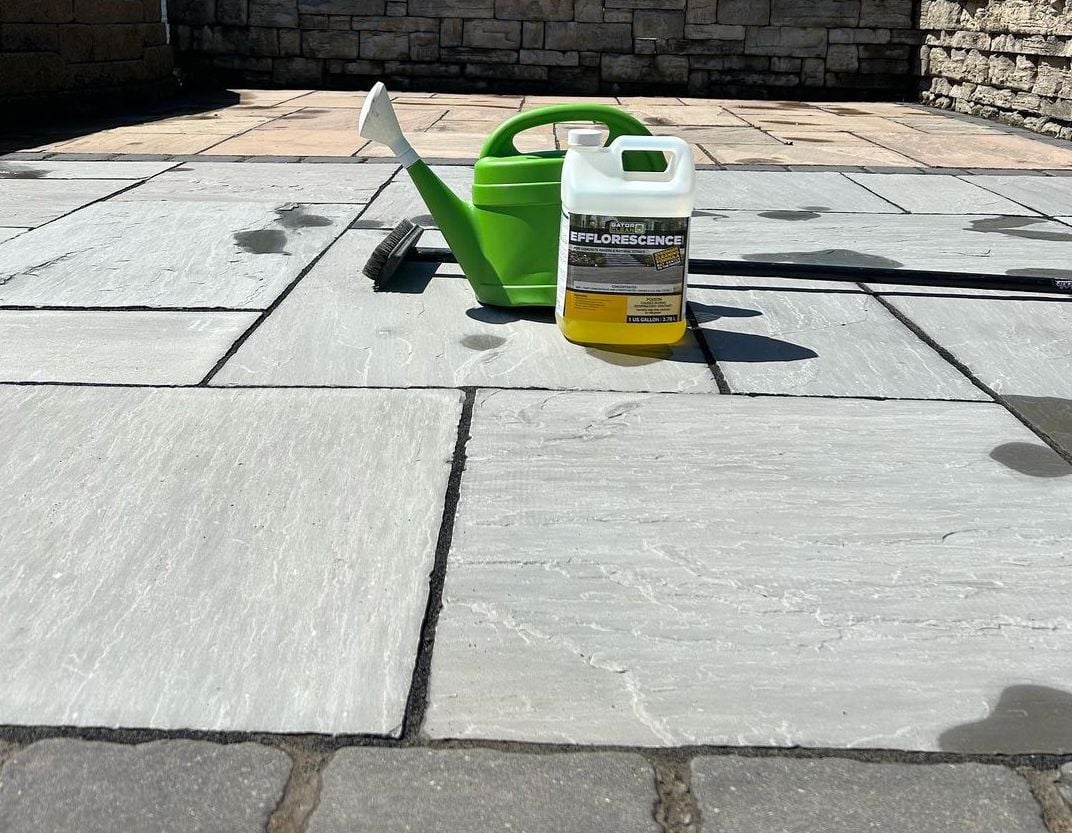 REMOVE ORGANIC STAINS WITH...
Organic stains, as its name implies, are caused by nature and they can be very stubborn. Common organic materials that can create stains include:
Moss
Mold
Mildew
Leaves (tannic acids)
Acorns
Berries
These types of stains are best treated with a bleach solution. While paver shampoo and efflorescence cleaner won't penetrate them, bleach (or more specifically, sodium hypochlorite) can make organic stains disappear like magic right before your eyes.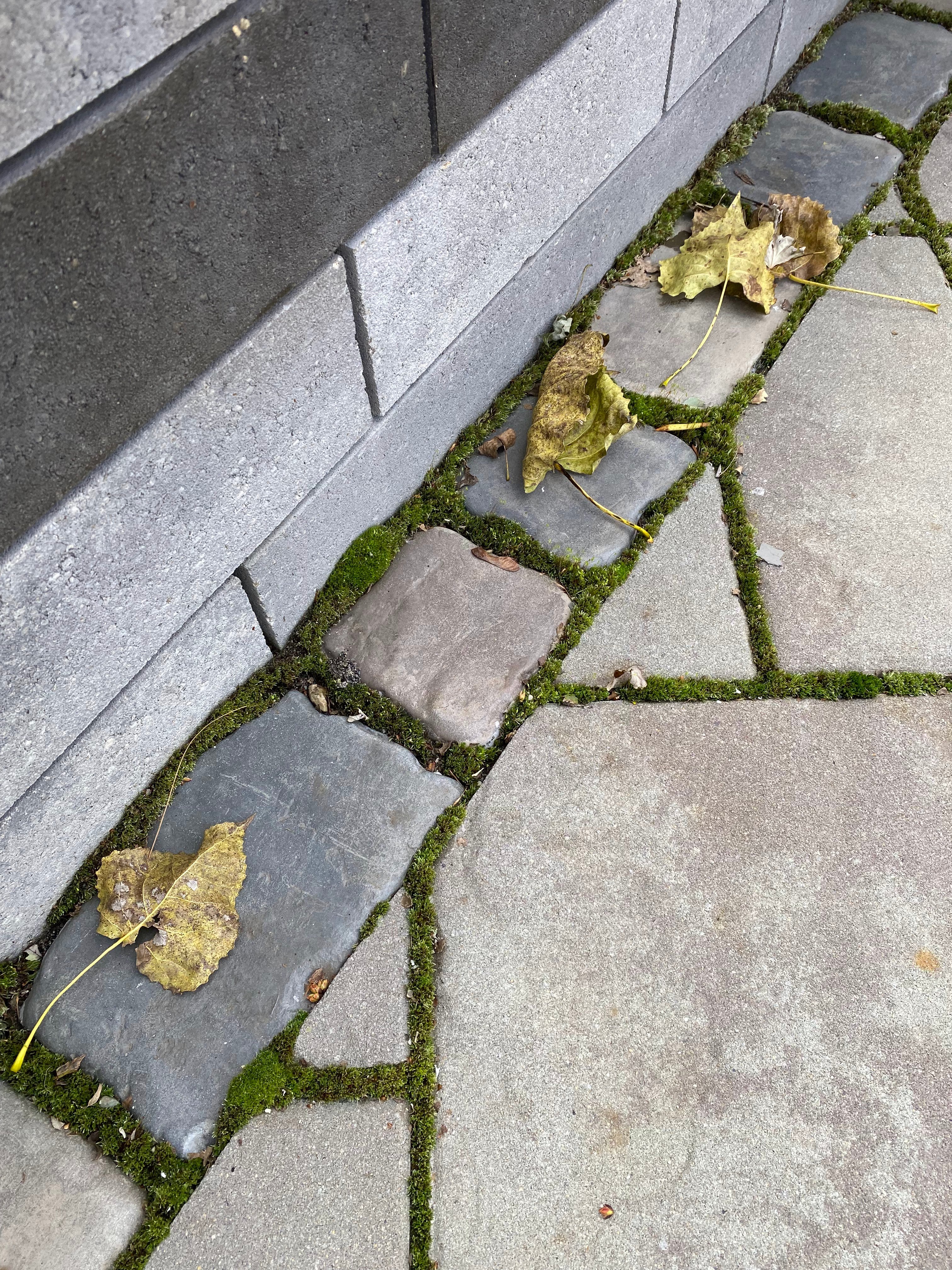 One of our favorite ways to obtain a powerful and effective cleaning solution for organic stains is to use Pool Shock. Pool Shock is a dry powder (available in one gallon jugs or one pound bags) and it can be found at pretty much any retailer that sells pool supplies. It's basically a highly concentrated bleach and it's excellent for stain removal.
Simply mix half of a one pound bag of Pool Shock into a five gallon bucket filled with warm water, pour the mixture over any organic stains on your pavers, scrub with a good stiff bristle brush, rinse, and watch them disappear. It's a great low cost yet high powered solution for treating stains caused by any of the materials we listed above.
If you opt to use the Pool Shock solution, we do recommend rinsing everything down well afterwards (and keeping it away from any outdoor fabrics and metal). While the solution won't harm common building materials or plants, it's a strong oxidizer so you'll want to protect anything that can be negatively impacted.
REMOVE POLLEN RESIDUE WITH...
Did you happen to notice that we didn't include pollen on our list of organic materials? This was not a mistake. While pollen residue is technically organic, pollen is a fatty, greasy substance and even Pool Shock will have a hard time treating it. For pollen, we recommend using a strong detergent soap or degreaser (i.e. Simple Green). Sometimes just plain hot water can also be very effective at removing pollen stains.
CONCLUSION
Use the right cleaning product for your outdoor patio! Remember, Gator Shampoo is great for general maintenance and will help keep pavers or natural stone looking clean and vibrant. Gator Efflorescence Cleaner can be used to remove efflorescence and we always recommend using it prior to sealing your pavers. (You can read more about that here.)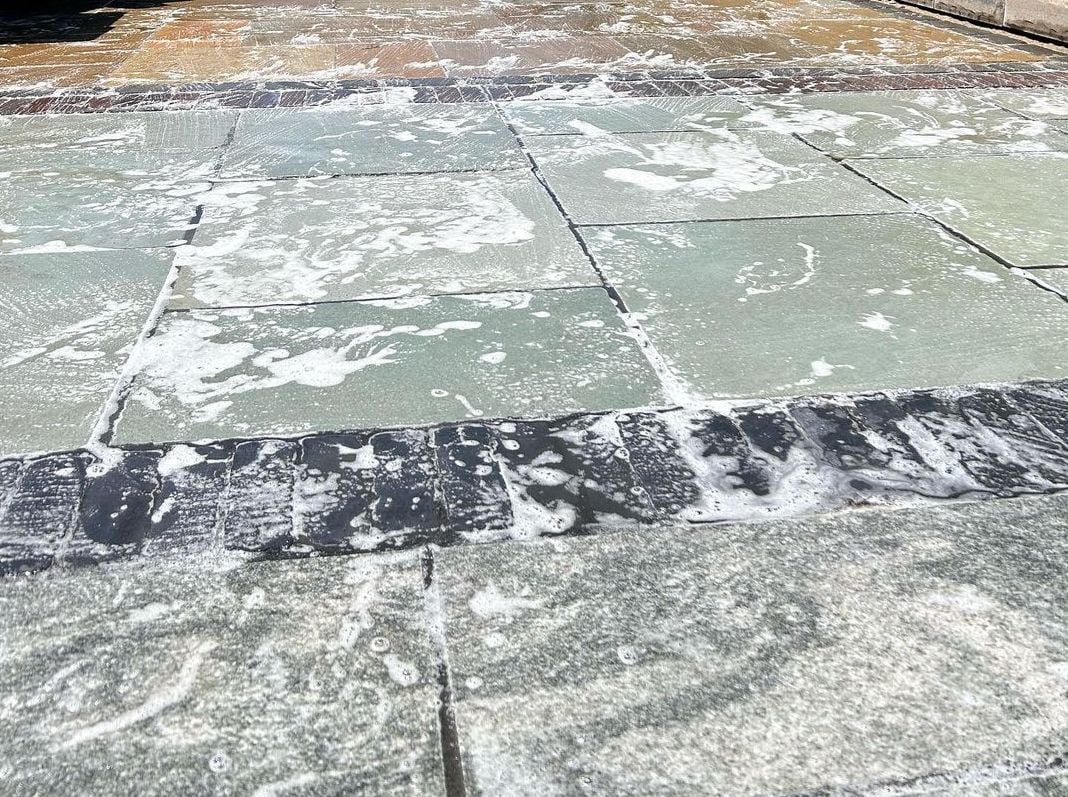 Stains, however, need to be treated separately. Pool Shock works wonders on most organic stains but if you're trying to remove pollen residue, hot water and a strong detergent soap or degreaser are going to be your best bet.
For more information on keeping your patio looking its best this summer, be sure to visit the Alliance Gator Education channel on YouTube!