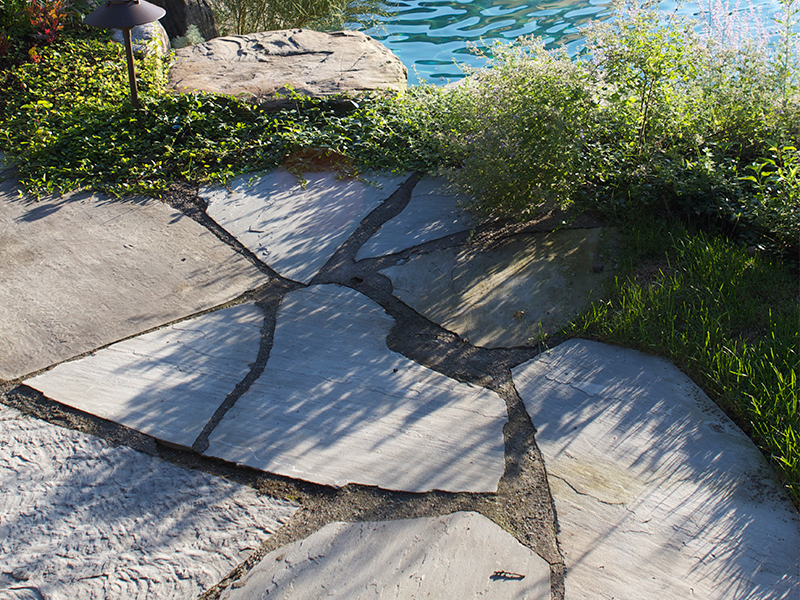 A key concern for any hardscape project is choosing the proper components. Choose the wrong one and you could wind up wasting time and money and risk starting over.
So when it comes to the polymeric sand or dust a bonding agent that goes between natural stones, you have two options: Poly sand or poly dust. But which is the right one?
Polymeric Dust versus Polymeric Sand
The key difference between dust and sand is the size of the joints between your stones. For most projects with a joint of 1 inch or less, such as square or geometric stone pavers, Eurostone polymeric sand is a great option. It's economical, versatile and easy to work with.
But if you're working with larger, natural stones with irregular contours and can't get an exact enough fit between the edges to keep joints under a ½ inch, then polymeric dust is your best option. In fact, you can have joints from ½ inch and as wide as four inches, giving you the flexibility you need when you have irregularly shaped flagstones or other kinds of natural stone.
Not Any Kind of Dust Will Do
There are stone dusts available out there, including natural stone dust, but problems with stability can occur if the dust is not specially treated. You're better off going with a specially formulated dust like Gator Dust™ that, when set, maintains its stability.
And once it's set, it helps resist erosion, inhibits weed growth and keeps the bugs away. It's essentially maintenance-free as long as it's properly installed.
The Right Component for the Right Job
Polymeric sand for pavers with joints up to an inch and polymeric dust for joints up to four (4) inches. By making the right choice and staying informed, you will save yourself headaches and money down the road.